About EasyTrim
Delivering uncompromising ease-of-use and durability, EasyTrim Reveals® offers exceptional performance with the looks to match.
A simplified two-piece system makes installation a breeze, enabling anyone to add modern elegance to their home or commercial building.
Designed with intelligent features such as snap-in top caps and patented water management technologies, EasyTrim Reveals® are quickly becoming the go-to solution for long-term results. Compatible with most major manufacturer's siding products and available in any color through our ColorMatch® program, you're sure to find EasyTrim Reveals® are a perfect match for your property!
About Engage Building Products™
Support
Our customers come first.
At Engage Building Products™, we have made it our motto to create and support products that solve common problems in construction, saving time and money for homeowners and contractors alike. Everything we do ties back to this commitment.
Demonstrated value.
We provide value through our complete lineup of cladding and trim systems, each designed to be compatible with most manufacturer's products. The team here at Engage Building Products™ provides support by working directly with customers to review building plans, creating estimates that detail the exact requirements necessary to complete their next project with excellence.
We lock-in with our customers, securing a relationship to support one another.
All of our products are designed and manufactured in North America, providing exceptional value and quality assurance. You can depend on Engage Building Products™ to support your journey from project conception through to completion with best-in-class materials plus top-of-the-line technologies.
It's our goal to develop a relationship with our clients that grows alongside them.
Learn more about opportunities to join our team: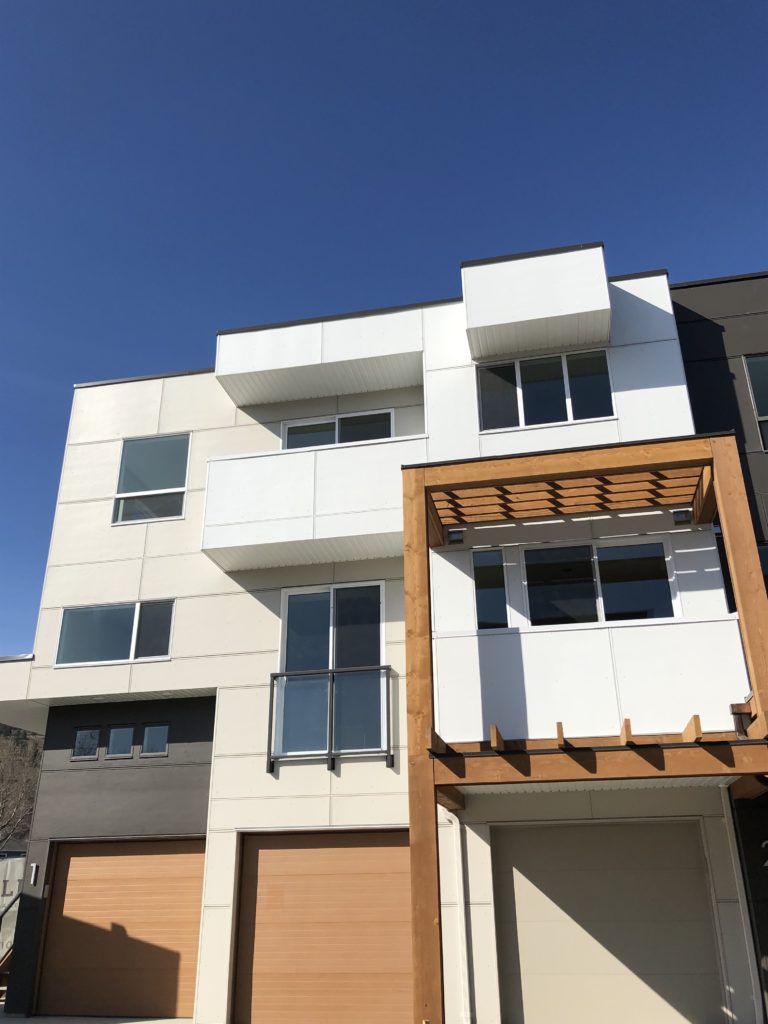 Have Questions? We're here for you.
Give us a call to find out how EasyTrim Reveals® can enhance your design while saving you time and money on your next project.
Features
EasyTrim Reveals® trim systems have many water-management features built into their profiles; however, it has been proven that for most installations a rainscreen is not always necessary when installed with EasyTrim® Reveals systems. For the requirements of many local and national building codes, however, EasyTrim Reveals® systems do not qualify as a full rainscreen.
Product
Yes. EasyTrim Reveals® offers a Primed finish option for your on-site painting needs. EasyTrim Reveals® Primed finish trim profiles are primed with a PPG Duracron primer and have a one-year paint application window after installation.
Notes: 
1) Paint will not adhere to our Anodized finishes.
2) Once painted, the applicable warranty is that of the paint provider.
Our standard finishes include Clear Anodized (silver matte finish), Black Anodized, as well as a Primed finish if site painting is preferred.
With our ColorMatch® Paint Program, EasyTrim Reveals® can provide our trim profiles in any color option imaginable, including your brand-specific colors. Our standard finishes inc All of our profiles are available in ten foot (10′) lengths.
Our standard finishes include Clear anodized (silver matte finish), Black anodized, as well as a Primed finish if site painting is preferred.
Pre-finished anodized aluminum EasyTrim Reveals® trim profiles deliver the best value for your dollar in the short- and long-term because anodized aluminum is a very low-maintenance finish.
We recommend using a high-quality, 100% acrylic latex paint when painting primed EasyTrim Reveals® trim profiles on site. This is the same paint recommended by the fiber cement manufacturers for use when painting primed fiber cement products; therefore, both primed fiber cement and primed EasyTrim Reveals® are painted with the same paint formulation when painted on site. Various paint manufacturers offer high-quality, 100% acrylic latex paint.
Let's Build Something
Get started with
EasyTrim today!
We'll connect you with a local representative to get all your questions answered.
Browse your options by ordering free samples or get a no-charge, no-obligation estimate to start planning your dream project! It's that easy.